• aesthetics • beauty • life • thoughts
I recently came across a thread on Twitter discussing the importance of beauty and how it's being destroyed by usability. Now, this could sound a bit dramatic, except that it really isn't if you look at a lot of modern architecture and technological changes. I highly recommend reading through the original post, which I will link below, because the writer does a much better job illustrating his points than I could: This did get me thinking, though, on my own stance on beauty. Now, given that I make and sell jewelry, it rates very highly with me. People generally enjoy...
---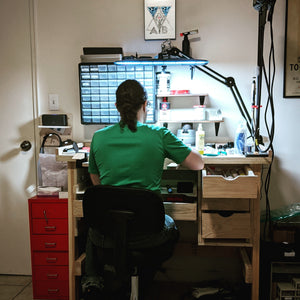 When we lost our jobs last year, there was a lot of discussion about what we wanted to do with this sudden gift of time. Things were not easy for sure, but while we were dealing with the difficulties in the world plus our own situation, we knew we needed to sublimate some of this energy. If you have been following our story thus far, you'll know that we reached out to a friend of ours in the Diamond District and lucked into some tools and an amazing bench for a very reasonable price. We promptly set everything up in...
---
• amethyst • chalcedony • citrine • history • labradorite • moonstone • opal • pop culture • rings • silver • stackers • stacking rings • sunstone • tiger's eye
The thing about rings is that they have been around forever. Like literally, forever. It feels like for as long as humans have had fingers, they've searched for ways to improve upon their aesthetic. The earliest rings on record can date back to 2500 B.C.E. in Ancient Egypt as well as Sumer. What makes the ring an especially versatile piece of jewelry is how it can represent so many things: love, rebirth, wealth, power, social status, even death. Signet rings were often used as a form of identification. It does feel like there is nothing a ring can't do, if...